Adnan Oktar also known by his writers name of Harun Yahya is found in the Torah Codes.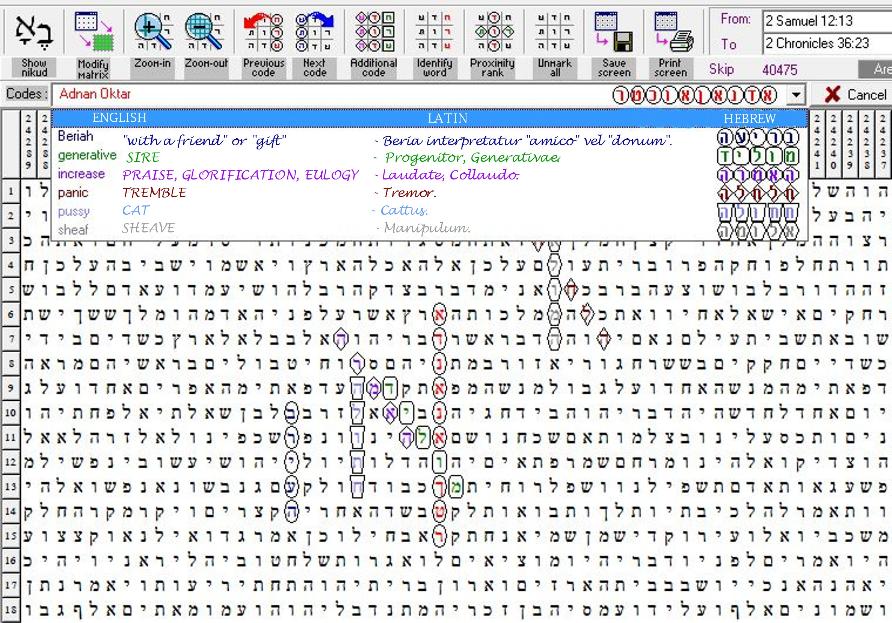 English - Latin
BERIAH is Hebrew in origin and its meaning is "with a friend" or "gift" - Beria interpretatur "amico" vel "donum".
GENERATIVE - Progenitor, Generativae.
INCREASE, PRAISE, GLORIFICATION, EULOGY- Laudate, Collaudo.
PANIC - Tremor.
PUSSY, CAT - Cattus.
SHEAF - Manipulum.
RAYEL - RA is Egyptian for Word, RAY means Beam of Light, EL is Hebrew for God. Word and Light of God - lux verbo Dei.
RA PERMISSION, AUTHORIZATION - verbo potestatem do.
COROLLARY, CONSEQUENCE - consequentia, sequela.
The following extensions were found by Code Researcher - Emil Johansson.